Happy Friday All!!
I'm back, and this week I'm bring you a completed story and a WIP by Awesomesauce76 and a very funny o/s by the Whitlock Harem
Today is all Edward/Bella AH and Vamp!
I'm passing out the Sham-wows cuz you will need them today!!!
Today's completed story:
Edward is having trouble balancing his urges for Bella's blood and Bella's body before the wedding. What started out as a simple "Practice Fic" has become a retelling of BD from EPOV that lets us see just how much he struggles for control at every turn.
This is an incredible vamp story - the retelling of Breaking Dawn from EPOV. This story is just "WOW". The emotions and turmoil that Edward goes through is so intense, it blows me away. The sex is incredibly HOT!!!The stand off with the Volturi is very well written (like it better them SM version). Give this story a try - you wont regret it!!!
Today's WIP (same author as above)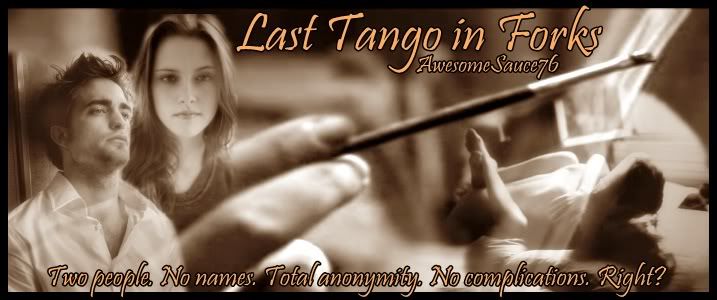 Bella Swan has spent a lifetime putting everyone else's needs before her own. Could a chance encounter with a mysterious stranger begin to change all of that? AU/AH
Well ladies, go grab your vibrator, a sham-wow and a few extra panties, Because you will need them. This is one of the HOTTEST stories I have read in fanfiction.
I fell in love with this author's writing when I read Blood and Lust (if you haven't read - RUN and read it).
I have never seen the movie so I had no premise for the story line before reading. So I just dove in not knowing what to expect and I was captivated in chapter 1, by chapter 2 the story owned me.
Chapter 10 is the most erotic, sexy and fucking hottest chapter! I need a shower after - trust me when I say HOT!!!!! Chapter 12 made me cry!
You will fall in love with this Edward and Bella - they both are very tortured souls that find solace in each other.
Here is the blinkie:
Today's One shot Rec:
Edward meets his soul mate, Idreamofeddy! Started as a "What not to do in a lemon" exercise. CRACKFIC, LEMON! Rated M AH,AU,OOC and Original Character!


OMG...is all I can say about this O/S - it is SO funny and the sex is hot and funny as hell. Trust me and just go read. I don't think they could of put in another adjective!

~~~ remember as your read to show the author some love by reviewing~~~